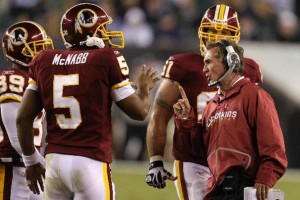 After Mike Shanahan inexplicably decided to send Donovan McNabb to the bench late against the Lions two Sundays ago, the immediate discussion around the league centered on McNabb's health and conditioning, which was the logic given by Shanahan following the game for the move. Shanahan later divulged that he felt more comfortable with backup quarterback Rex Grossman running the two minute drill.
But that line of reasoning quickly fell apart, as sources close to the team indicated that McNabb and Shanahan have had significant differences in both play calling and decisions on the field since McNabb arrived in the off-season in a trade with Philadelphia.
McNabb took to the airwaves in the time since, scoffing at the notion that he's not completely capable of handling all parts of the Redskins playbook, saying it's hilarious that anyone would even suggest such a thing.
With their BYE week behind them now, it seems as though McNabb is comfortable with the current state of detente between himself and Shanahan, enough so that he's ready to put all of the controversy behind him and move forward as the starter next week.
Whether the feud between McNabb and Shanahan will flare up again this season is anyone's best guess, but given that the pair have seemingly reached an accord in the interim, it's doubtful that we'll see Grossman taking the field anytime soon unless McNabb suffers an injury that would keep him off the field.
Other posts you may enjoy: